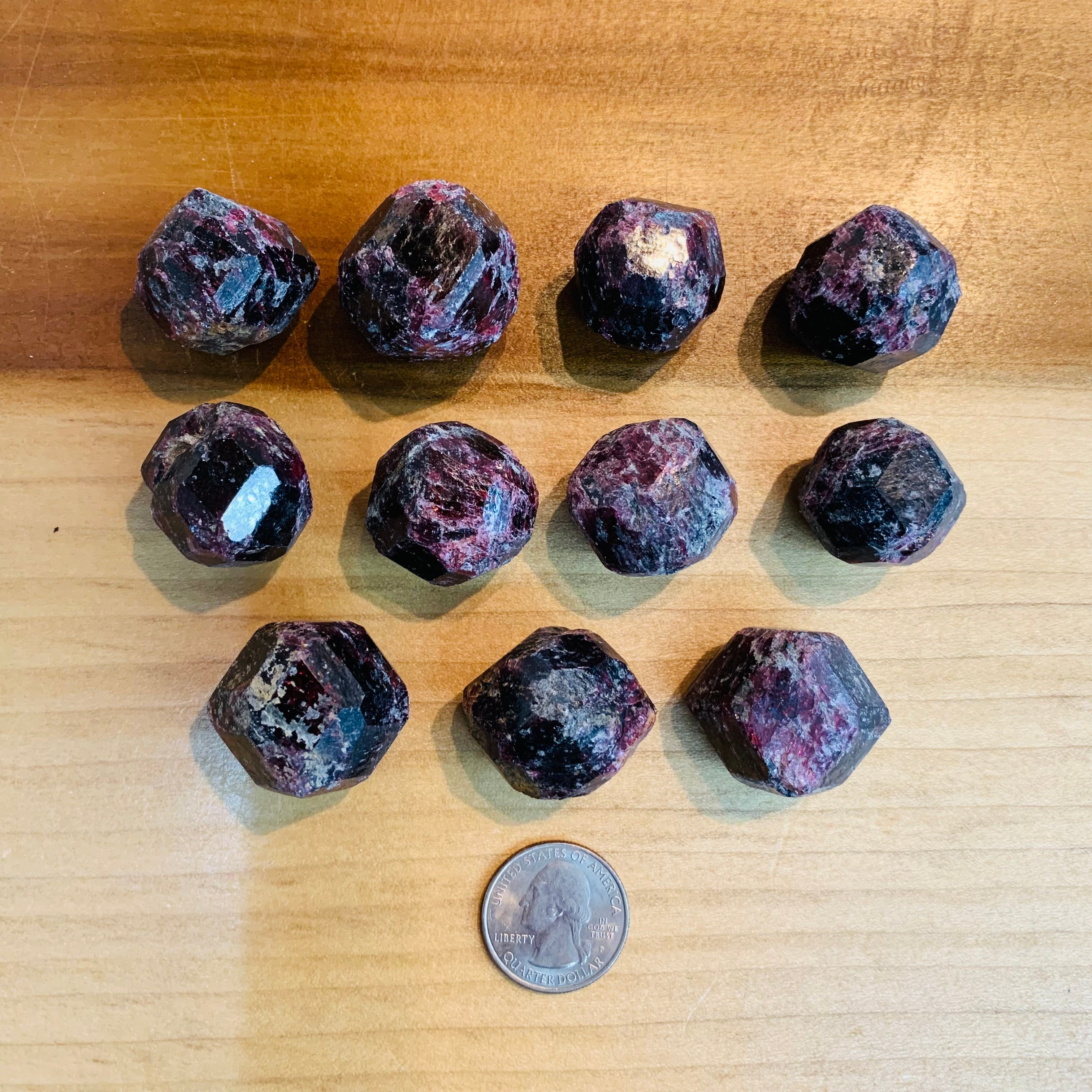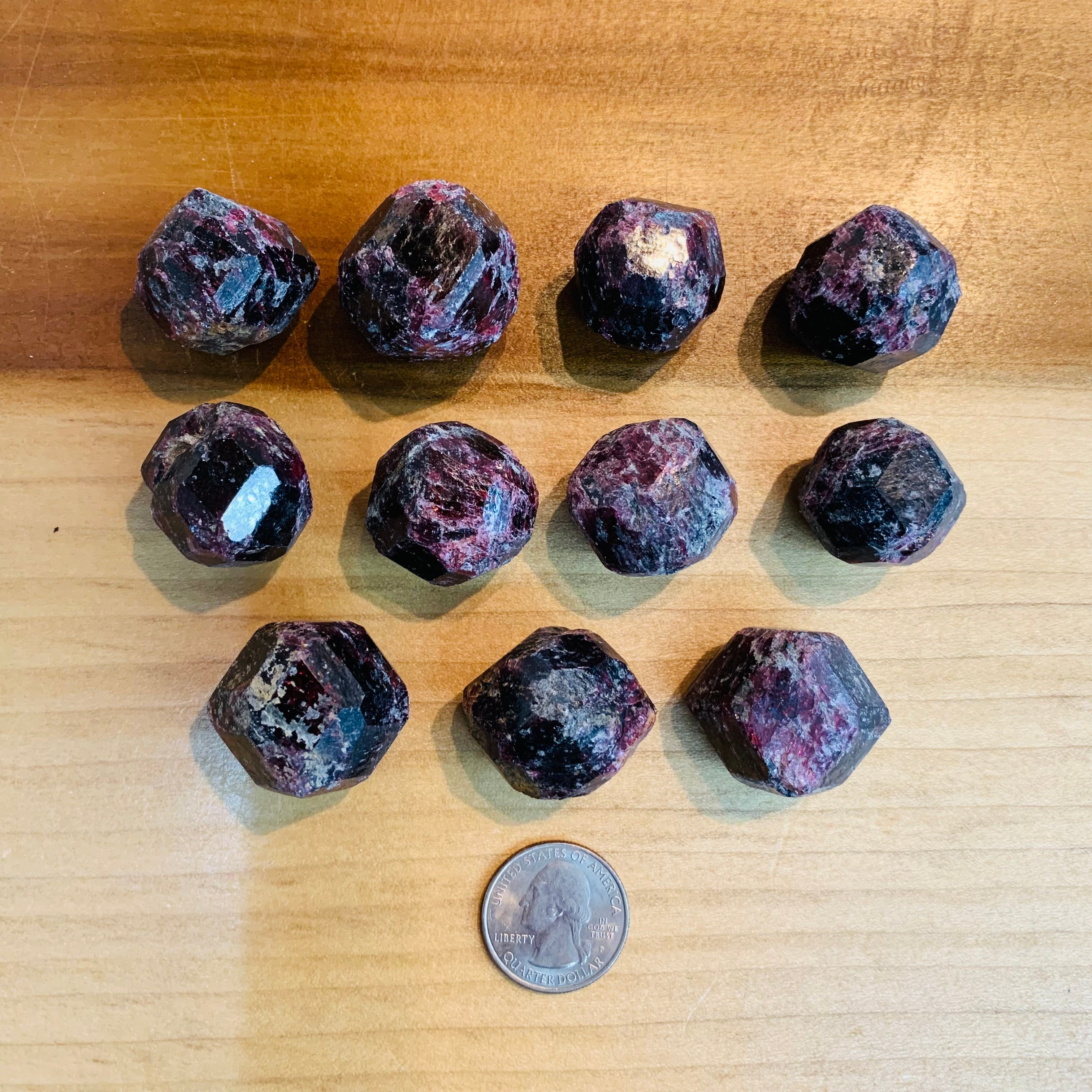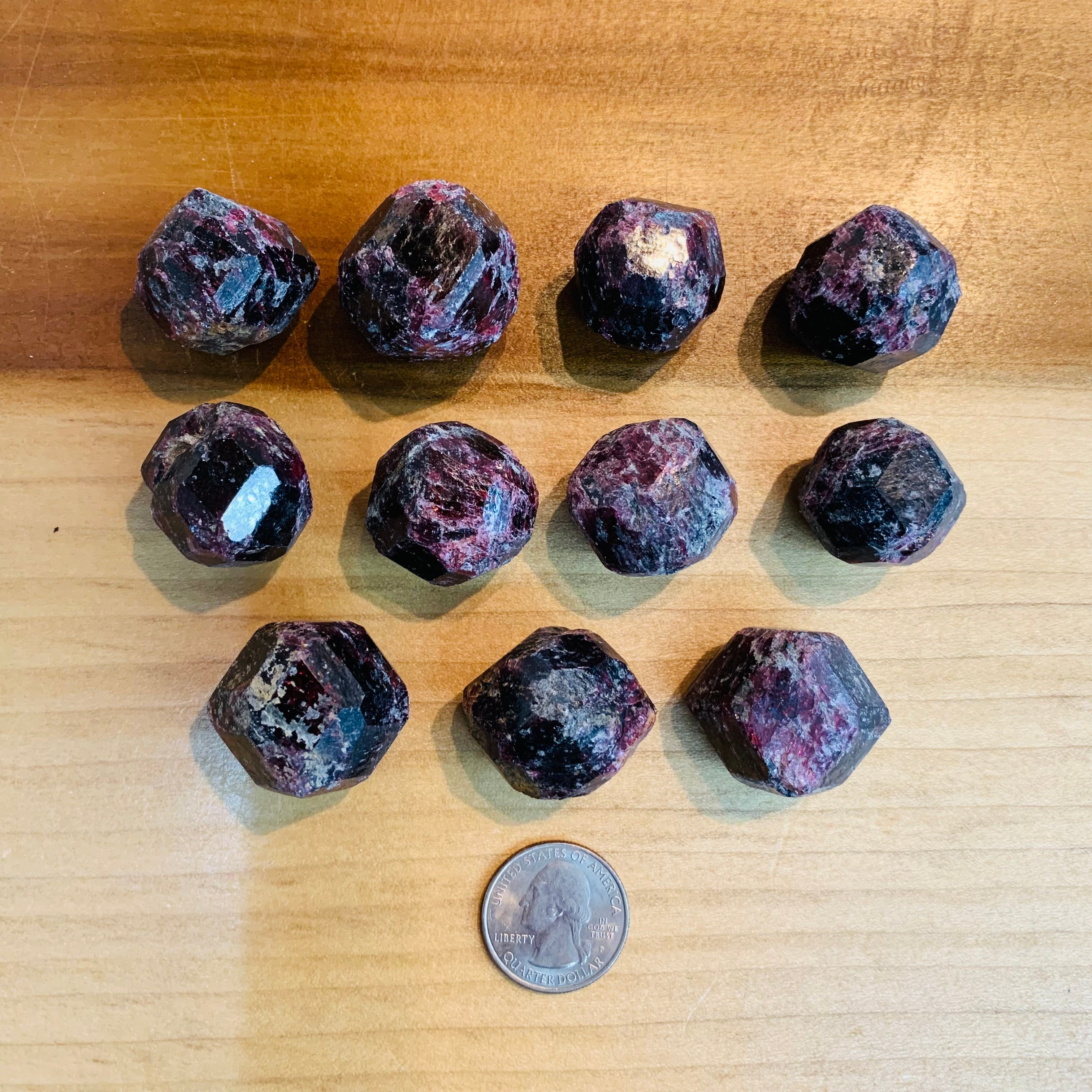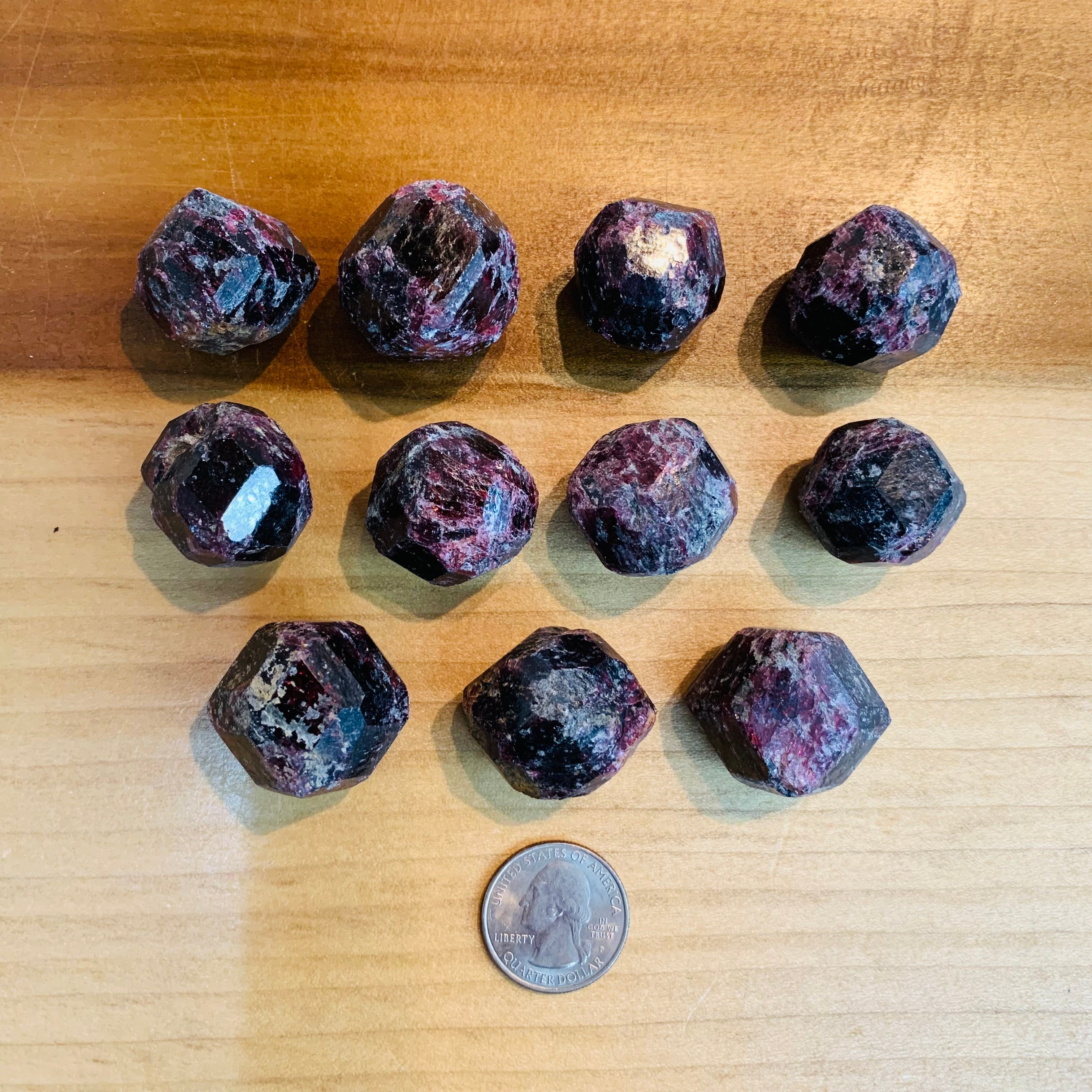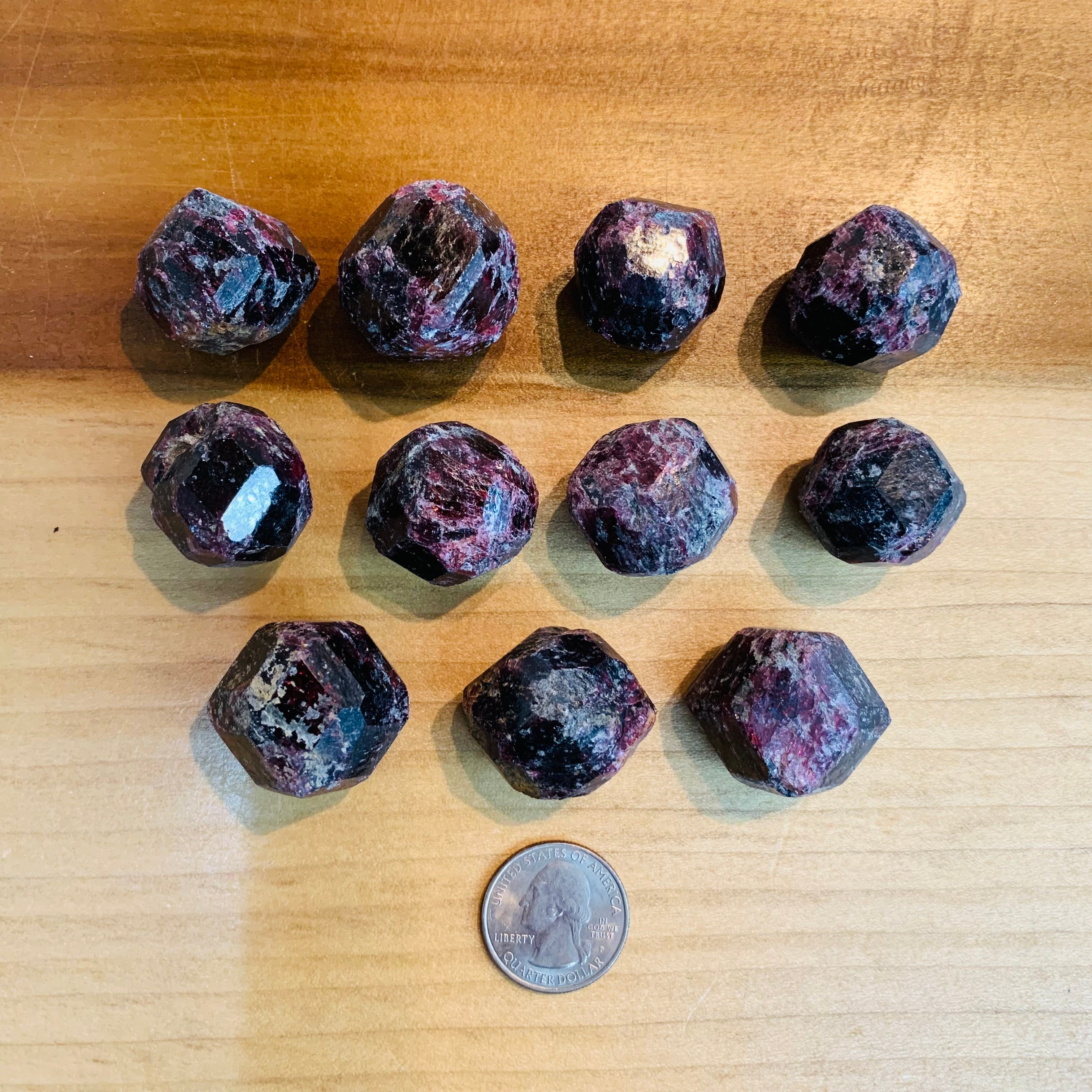 Alaskan Garnet Crystal
Description: This listing is for one Alaska Garnet Crystal, Smaller or Larger.

Smaller:  Weight: approx. 21g - 30g

               Size: approx.  21mm - 25mm in diamter

Larger: Weight: approx.  31g - 44g

             Size: approx.  26mm - 38mm in diameter

Properties:
Ah… the fine wine of the garnet world. Alaska garnet crystals are deep red almandine garnets with clear crystal structure and a rugged and tough kind of elegance. We are all in love with these and can only source a handful of them per year. The garnet crystals exhibit the cubic/ dodecahedral solidity, beauty and strength that is hard to match anywhere else. Garnet is exceptional for women's health, integrating trauma, joy, rebuilding after illness, courage, resilience and strength.
Garnet builds and nourishes blood, which the heart keeps moving and circulating through the entire body. Blood, in Chinese medicine, is far more than hemoglobin. Blood contains our shen (spirit) and nourished healthy blood gives us joy, aliveness, animation, connectedness, and a special sparkle in our eyes. It's the opposite of depression. It's wanting to get out of bed in the morning. It's feeling grateful, loved, warm, creative and full of life. In addition (as if that's not enough!) healthy blood is essential for fertility, menopause, menstrual cycles and all of women's health.
Note that the crystals are not completely perfect (if they were they would be much more highly valued). They have some organic imperfections on their edges, but are all whole crystals that are perfect for healing work. The power is completely intact and they are still nicely affordable.

Policies and Disclaimers:
All of our stones and crystals are pure and natural. They are free from synthetic treatments of any kind, including dyes, stabilizers, and synthetic heat treatments to enhance color.

We can not take requests for individual stones seen in the pictures.

International customers are responsible for any customs fees/import taxes.
Please see our Lost Package Policy prior to placing your order. 
Please contact us at CrystalShop@UpperClarity.com with any questions.